Lobster mac & cheese is a delicious dish any time of year but has become a staple around our house during Thanksgiving and the Holidays.  YUM!
To those of you that like our skinny take on many of our recipes, this is NOT one of them.  We are gonna work on a skinny version to try and cut down on some of the calories so check back.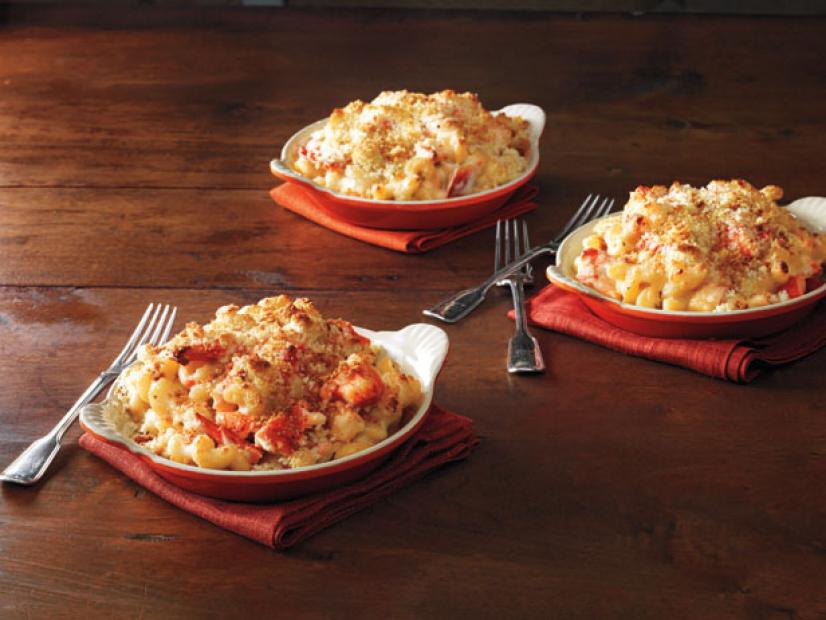 2 tablespoons vegetable oil
Kosher salt
1 pound cavatappi or elbow macaroni
1 quart whole milk
8 tablespoons (1 stick) unsalted butter, divided
1/2 cup all-purpose flour
4 cups grated Gruyere cheese (12 ounces)
2 cups grated extra-sharp Cheddar (8 ounces)
1/2 teaspoon freshly ground black pepper
1/2 teaspoon ground nutmeg
1 1/2 pounds cooked lobster meat, 1/2-inch-diced
1 1/2 cups fresh white bread crumbs (5 slices, crusts removed)
Directions:
Preheat the oven to 375 degrees F. Add the oil to a large pot of boiling salted water, add the pasta and cook al dente according to the directions on the package. Drain well. Heat the milk in a small saucepan, but don't allow it to boil. In a large pot, melt 6 tablespoons of the butter and add the flour. Cook over low heat for 2 minutes, stirring constantly with a whisk. Still whisking, add the hot milk and cook for 1 to 2 minutes, until thickened and smooth. Off the heat, add the Gruyere, Cheddar, 1 tablespoon salt, the pepper and nutmeg and stir until the cheese melts. Stir in the cooked pasta and lobster. Pile the mixture into 6 to 8 (2-cup) gratin dishes. Melt the remaining 2 tablespoons of butter, combine with the bread crumbs and sprinkle on top. Bake for 30 to 35 minutes, until the sauce is bubbly and the pasta is browned on top.
This is probably our favorite side from Ruth Chris Steakhouse when we eat there but this version and all credit is due to Ina Garten at Food Network Magazine