A RUM mule featuring Mount Gay Black Barrel Rum.  This cocktail is a must-try during the long, hot summer evenings. Made using small-batch rum—twice-matured in charred oak barrels—this sipper is full of spicy aromas. Add a little bit of sweet and sour to create your new favorite summer sipper.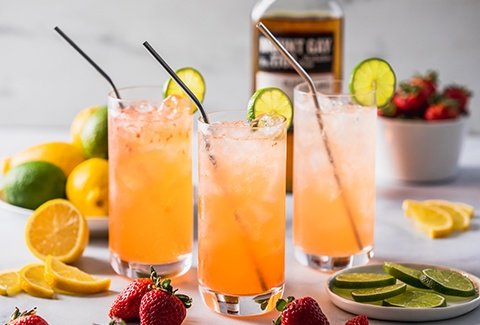 INGREDIENTS
Mint leaves
1.5 oz. Mount Gay Black Barrel Rum
1 oz. lemon juice
0.5 oz. simple syrup
2 dashes Bitters
2oz Ginger Beer or Diet Ginger Beer
1 Strawberry
Lime Slice
DIRECTIONS
Muddle strawberry with simple syrup and lemon juice in a cocktail shaker. Fill shaker with ice and add rum. Shake and strain over ice. Top with ginger beer and two dashes of bitters. Garnish with a slice of lime.
Recipe credit to Total Wine & Spirits